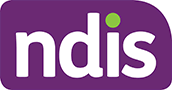 The NDIS (National Disability Insurance Scheme) has been introduced in many areas around Australia in the past year and is to roll out across our region on 1st July 2017.
This program will change the way you receive funding to support your child's needs.
If your child is eligible, you will receive the funds to pay for support where in the past, your funding was secured through Jumbunna or maintained by us, through claims to different departments. You will work with a transition partner to identify your goals and needs for your child and they will assist you to locate and engage these support services. NDIS will nominate the early childhood partners and we are awaiting to hear which organisation will hold this role in our area.
The NDIS means changes for everyone and so we will work together to make sure your family continues to get the best possible services from our staff and therapists to support you and your child.
From time to time, the NDIS release information for Early Childhood Early Intervention that is available via their website www.ndis.gov.au  and we will also keep up to date with changes as they occur and let you know.
Please click on the  link below for an introduction brochure that might help you to connect with the NDIS. If you would like to meet with us to talk about anything relating to the NDIS, especially in it's initial rollout, don't hesitate to ask us.
early-childhood-early-intervention