Jumbunna is licenced as an Approved Provider under the Education and Care Services National Law and the Education and Services National Regulation. The National Quality Framework aims to raise quality and drive continuous improvement and consistency in education and care services. The objectives of the National Quality Framework and Regulations can be found on www.acequa.gov.au.
Jumbunna has been assessed by the Australian Children's Education and Care Quality Authority (ACECQA) and received the 'Excellent Rating", which is the highest rating to be awarded. ACECQA's Board Chair Rachel Hunter said "Jumbunna Community Preschool demonstrates exceptional practice through its collaborative partnerships with the community and professional organisations to support children and families in it's service and the wider community." She also highlighted "The service ensures it meets the needs of all children by implementing a holistic approach to early education in which families, health practitioners and educators work together to enhance children's learning and growth." (The full media release can be found on the ACECQA website).
BELONGING, BEING & BECOMING
The Early Years Learning Framework for Australia (EYLF)
By using the EYLF, we will guide your child's play by carefully designing learning activities and stimulating indoor and outdoor learning environments.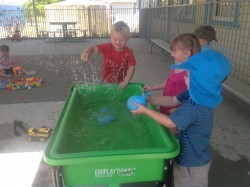 The EYLF has five broad outcomes:
Children have a strong sense of identity
Children are connected with and contribute to their world
Children have a strong sense of wellbeing
Children are confident and involved learners
Children are effective communicators

Children are confident and involved learners,
here they are exploring what water does when you drop something into it.