Therapy services offered by Jumbunna include speech, occupational and psychology. The therapists work as part of the Transdisciplinary Early Intervention Team. Therapists are involved in:
Assessment and review of children's needs and strengths to help set goals for both individual and family plans.
Providing workshops and information to parents and staff
Group work
Liasing with other agencies and organisations that may be involved
Individual therapy on a needs basis
For all types of therapy, activities should work toward functional skills, which will also include academic based skills. The  therapist will balance play-based activities with structured activities. Pretend play is important to help your child practise his or her skills in what will resemble real life activities. More structured activities will be included as needed.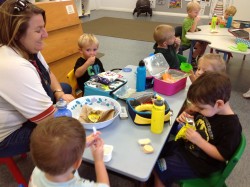 Staff use everyday activities such as lunch time to practice skills such as language, fine motor and social skills.
There are two types of therapy which may be used in a preschool setting: pull-out or push-in formats.
Kylie has outlined below, the different types of therapy we use for Speech Therapy, however this also relates to other therapy types.
Pull-out Speech Therapy
Your child may be pulled out of the classroom to participate in a group or individual therapy. These activities will be very structured and this format can help if your child needs to work on particular goals, especially for children who need to work on their sounds.
Push-in Speech Therapy
This is where the speech therapist comes into your child's classroom to see how the child is using his or her communication skills in a more natural setting. This allows the therapist to work not only with your child but also work with the teachers to implement strategies into the child's daily routine. In a push-in setting, the speech therapist will also work with, and model language, for multiple children in the classroom which can take the focus off the children with communication delays. In a push-in format, the speech therapist can help your child with practising sounds, using particular vocabulary, following directions within the context of the daily classroom routine, or even using their language to socialise with peers, all without the children even realising they are working on it.
The speech therapist may help create a lesson plan to practise some of the goals your child has, from picking a particular book for the teacher to read, or a theme for the pretend play area of the classroom. This helps keep the learning focused on being friend-oriented and fun. In a push-in format, the speech therapist and the teacher work together to help your child receive the maximum amount of therapy in a functional way. This is also called a transdisciplinary approach, where skills are transferred from one team member to another, for longer term benefit to your child.
Pull-out therapy = ½ hour per week/fortnight
Push-in therapy = 6-12 hours per week