Jumbunna Intensive Parenting Project (JIPP)
Jumbunna receives funding for this program from the Department of Social Services (DSS). The aim of the program is to strengthen relationships, support families, improve children's wellbeing and increase participation in community life to strengthen family and community functioning.
The program's staff, (Psychologist, Indigenous worker, Therapist) will provide support to families and children using a range of strategies. These may include Parenting programs, individual support which may include home visits, supported playgroups, school readiness programs, and individual therapy.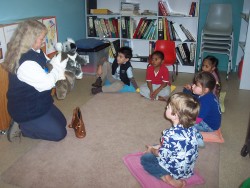 Doris Williams the Psychologist running the Play and Learning Social Skills program with some of the children. All the children participate in the program the year prior to going to big school. This is one of the groups Doris runs.